I have a Tom Tom GPS receiver and have found it to be very helpful in navigating in unfamiliar places. I haven't used it in a legal context as of yet, but I can guarantee there will be a time in the future. Specifically, I would like to add large numbers of addresses to my GPS as favorites. Tom Tom can store favorites but it is a hassle to enter them in. Google on the other hand provides two products that are very capable of compiling large lists of addresses, Google Maps and Google Earth. Google Maps is web based and available
here
(you will need a Google account to save lists of addresses). Google Earth gets installed on your computer and is available
here
. However, both of the products place their data in a format that my GPS device doesn't understand. Google uses a file called KML or KMZ, while Tom Tom has their own ov2 format. The solution is
POIEdit
which allows you to import and export Google, Tom Tom, and many other formats. The program also lets you edit the "Points Of Interest" in a tabular format.
Lets take the example of using Google Earth to look up a collection of addresses. First, create a folder for saving your addresses in by right clicking on the My Places root folder in the Places box and select Add->Folder.
Next, do a search in Google Earth's search box. Then, click & drag the address you want to save into your new folder.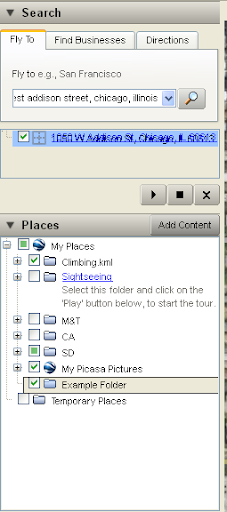 Finally, right click on your folder and select Save Place As. Save the file as a KML file because POIEdit doesn't understand the KMZ variety. Now in POIEdit, go to File->Open and find the file you saved from Google Earth. Once the file is open, you can tweak the names of your points of interest.
Now we can save in a format our GPS device can use. Select File->Save as and select the format that your GPS device uses. Mine uses the Tom Tom ov2 format. Finally, save it on your device. My Tom Tom is treated as a memory card, so I just save the file directly to its memory.
POIEdit also has a batch convert tool in the tools menu. Use this tool to convert multiple files. My Tom Tom uses the name of the file as the category of the POIs, which can be handy. For example, I have a file of climbing spots. When I do a search on the Tom Tom, I can look for POIs in a certain area with the category of Climbing and select the spot from the list. One final idea, some services allow you to upload a excel file of addresses and then download a table of gps coordinates (for example,
CommunityWalk
). If you have a large number of addresses, these services can be handy for getting those into your GPS quickly.